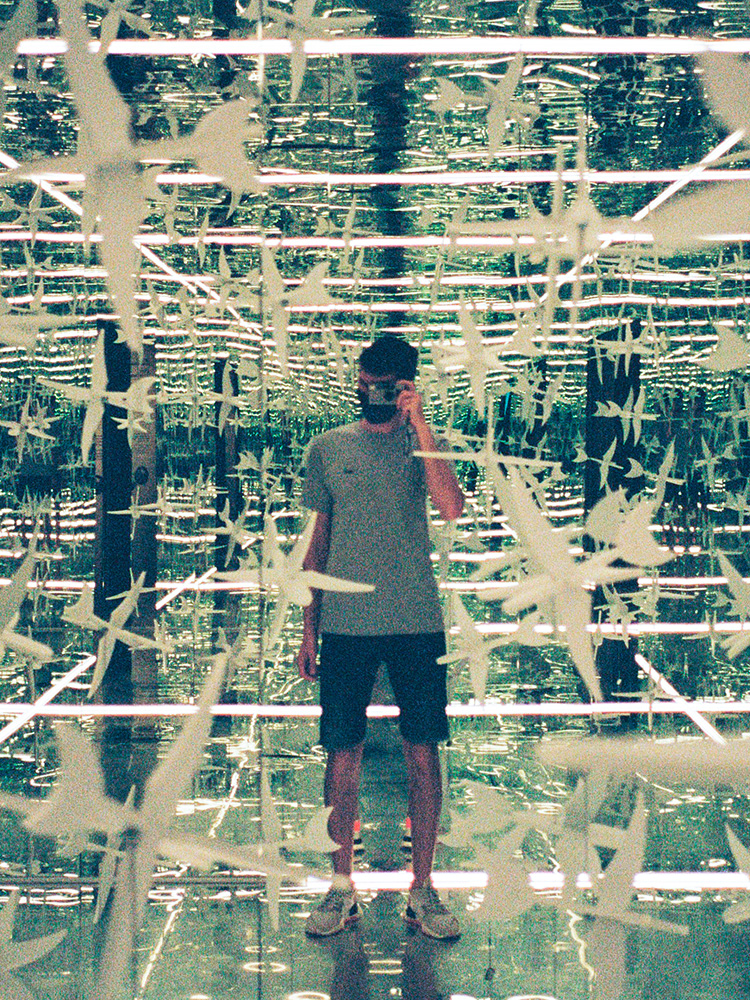 In conversation with
Vladimir Mastepanov
Barcelona, Spain
Hi Vladimir, please introduce yourself.
Hi, I'm Vladimir Mastepanov. I was born in Russia, in a small town in the south, but it seemed to me that it was not hot enough there and my wife and cat moved to Barcelona. This is where we have been living for the last 8 years.

I became interested in analog photography in childhood, when I found and dismantled (without the possibility of restoring) my mother's rangefinder camera. A lot of time has passed since then and now I treat cameras with much more accuracy.
What does analog photography mean to you? What excites / fascinates you about it?
Analog photography seems incredible to me. It's just physics and chemistry, but being in this process, the presence of magic is clearly felt. Even in childhood, it was a big discovery for me that the camera is not important. I remember my brother making a camera out of matchboxes. It was the simplest pinhole, but it worked! It turned out that nothing was needed: no electricity, no lens, no computer and flash drives. You only need a moment that you want to save. It will remain forever. It still thrills me to this day.
In your opinion, what are the advantages and disadvantages of analogue photography?
Analog photography has many disadvantages, they are all known and are associated primarily with price, convenience and risks. But I still choose this particular type of photography. It's hard to explain, I just really like film photos. Although, if you think about it, an important advantage is that I can take 100-200 photos in one walk with a digital camera, and 1-2 with a film camera. This is a time saver!
Do you concentrate on a certain topic in your work? ​
I try to always have a camera handy to take pictures if I like something. I don't think about the boundaries of the genre, just looking for something that pleases my eye. Most often it is architecture, landscapes.
Are there (analogue) photographers who have influenced your aesthetic and approach?
Perhaps the most influential photographer for me is David Plowden. I like its simplicity and atmosphere. It inspires me a lot.
Do you have certain cameras and films that you prefer to work with?
Contax T2. I understand that this is foppishness, but of all the camera models that I tried (there were really quite a few of them), it was the Contex T2 that became my favorit camera.
I don't like SLR cameras, they are too heavy and bulky for me. My love is point and shoot, I'm crazy about these little cameras from Olympus, Ricoh, Yashica and other companies. These are the cameras that you can throw in a backpack and not worry about its weight.
Oh, I recently bought a Contax G1 with a 90mm lens and it is also excellent, although a bit heavy for me.
From films I prefer Kodak Portra 400 or Image Pro 100.
Speaking of films: What does your workflow look like? ​
I don't develop film myself. The only thing I do is level the horizon and crop the photo in Photoshop.
What advice would you have for other photographers who are reading this interview?
I'd love to hear some advice for myself 🙂
If you publish your work on Instagram: curse or blessing?
I don't give more importance to instagram. I do not waste time and energy on it, it does not seem to me that it is rational to spend a lot of time there.
Which 3 photo books can you recommend / should you definitely own?
I'm not a big fan of photo books. I used to go to the library and leaf through books by different authors for hours. Now I prefer to go to galleries and museums. The museum format seems to me more impressive.
Thank you so much for your time!
Favorites