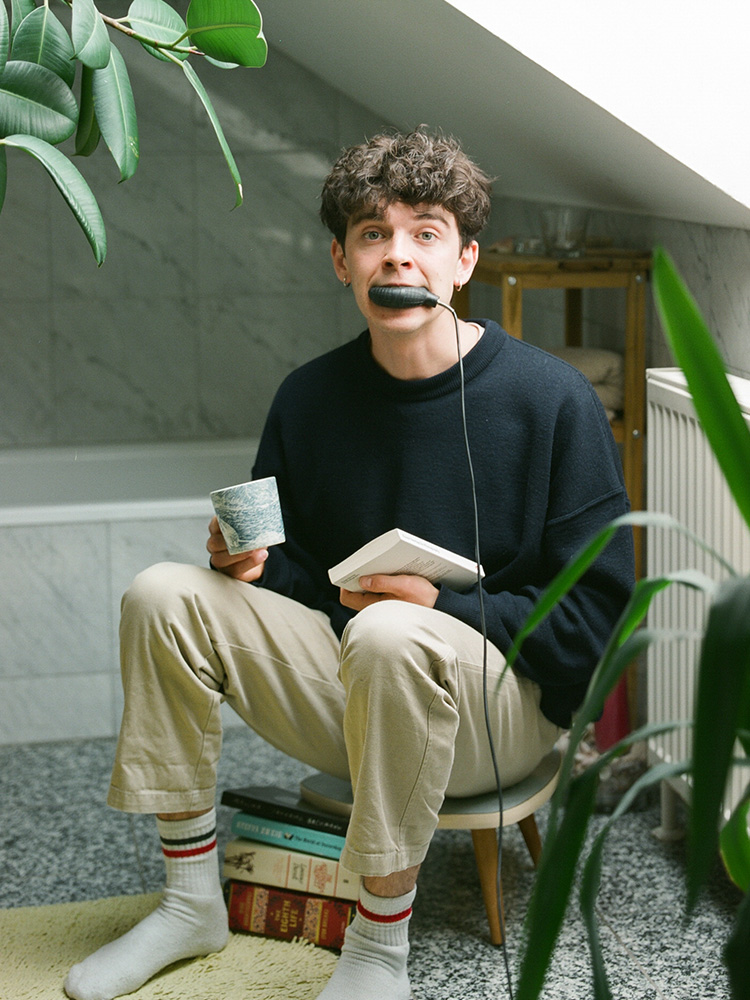 In conversation with
Emil Wieringa Hildebrand
Oslo, Norway
Hi Emil, please introduce yourself.
I'm Emil, a 24 year old photographer from Norway normally living in Vienna. I've been working with analogue photography for the past six years. It started, as it often does, with a hand-me-down camera from my grandparents. I got a beaten up Nikkormat FTn that was old enough to have seen my dad grow up. Later on I figured out that it had been the backup camera of a war journalist in the eighties, so this old thing has probably been through more than I will ever experience. It still works like a charm. It served as a travel- and everyday-camera for a while until I got more serious about photography during a stay in Rotterdam three years ago.
All I do is self taught, and I owe a great debt to youtubers and online resources – especially in the early stages of my photography. These days I try to experiment more on my own and figure out what works for me.
By now I have upgraded my kit somewhat, but the Nikkormat is still with me occasionally.
What does analog photography mean to you? What excites / fascinates you about it?
For me it comes down to the slow pace and the simplicity of it. Not being able to see the results immediately makes me think a little bit extra about every image, and I've found that it really pays off in the end. The famously high prices also help in that regard. Another plus is the forgiving nature of film – even a failed shot can look great, or at least interesting. I have never experienced that with digital.
In your opinion, what are the advantages and disadvantages of analogue photography?
In addition to the things I've already mentioned, I enjoy the look that film gives me straight out of the camera. Even though I do a fair amount of adjustments and editing – maybe more than most people think – the baseline look is already given by the film. I find it horrible to start off with a sterile, tack sharp and lifeless looking digital image.
Do you concentrate on a certain topic in your work? ​
I work with portraiture, and my area of focus is bands, artists and other creatives. I like humans and their absurdity, and working with others always creates better images than I could have on my own.
Are there (analogue) photographers who have influenced your aesthetic and approach?
Absolutely! I am a big fan of artists like Min Hyun-woo (@minhyunwoo_), Brooke DiDonato (@brookedidonato) and Barney Arthur (@barneyarthurphoto), to name a couple.
Do you have certain cameras and films that you prefer to work with?
I've gotten quite settled and comfortable in my current setup. What I have found works best is my Nikon FE2 for 35mm, my Mamiya RB67 for medium format and recently a Polaroid Impulse AF for instants.
Film wise I've picked from very different segments. My preferred colour film is of course Portra 400, but for black and white I've found myself drawn to the grainy and somewhat temperamental Fomapan 400. I just love the look of it.
Speaking of films: What does your workflow look like? ​
I leave the development and scan in the very capable hands of my labs in Oslo and Vienna. As for post processing I run everything through Lightroom and sometimes Photoshop before it reaches the outside world.
What advice would you have for other photographers who are reading this interview?
If you're coming into the analogue game: just take photos. If you've been here a while: take some more. I try to teach myself this.
If you publish your work on Instagram: curse or blessing?
Both, for sure. Use it with care, and care a bit less.
Which 3 photo books can you recommend / should you definitely own?
Pick up a random one, they often surprise you the most. For the second or third: go buy a couple of zines from someone!
Thank you so much for your time!
Favorites