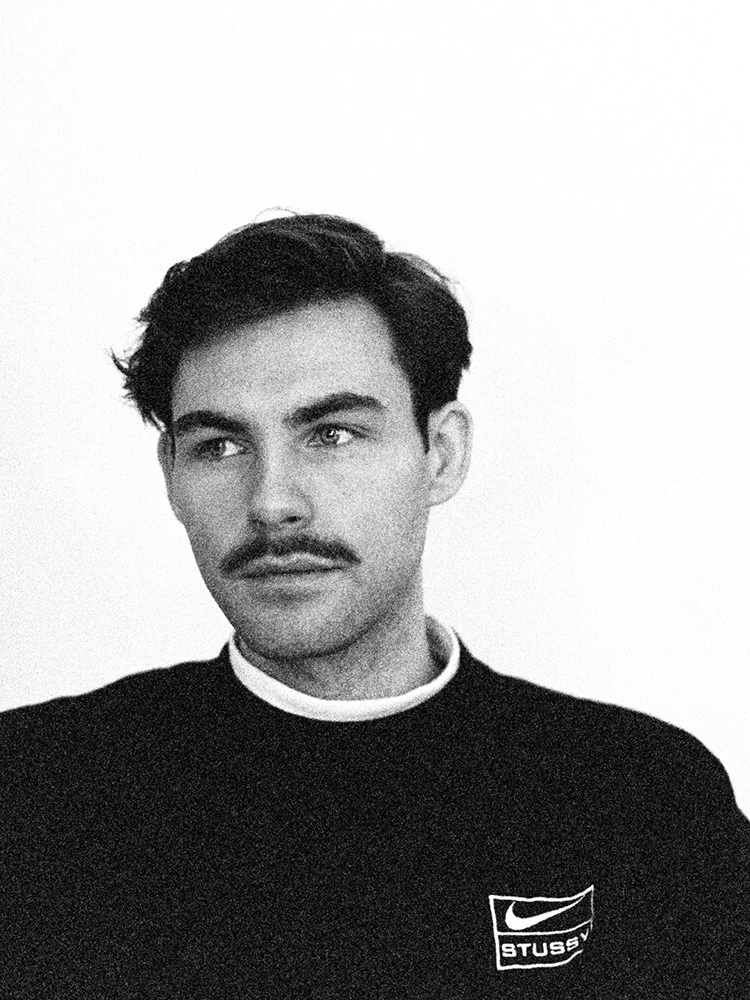 In conversation with
Maurice Pehle
Berlin, Germany
Hi Maurice, please introduce yourself.
My name is Maurice Pehle and I come from a graphic design background in the field of photography (self-taught). I have been self-employed for four years with a social media agency in the field of logo design, corporate design, brand building, social media marketing, content creation and curation. Also a freelance Leica Camera photographer. Analogue passion for three years. As @loadfilm founder and curator, I want to keep analogue photography alive. I currently live in Berlin, originally from near Bielefeld.
What does analog photography mean to you? What excites / fascinates you about it?
Giving space to chance and imperfection. I like the feeling when not everything is predictable. Even if you are in control of your camera and you are confident with all the circumstances etc., many things can go wrong. With the film material itself, with the storage, the development or the scan. But in the end, something wonderfully timeless emerges, which is less interchangeable than the digital glossy image from the series shot.
In your opinion, what are the advantages and disadvantages of analogue photography?
See last answer: Many things can go wrong, but this gives the result more life. The look is unbeatable. You might look at an analogue picture for a second longer 😉
Do you concentrate on a certain topic in your work? ​
Portraits, lifestyle, stills in combination with architecture and landscape. Basically, I like to work under the motto: "Catching Feelings!".
Are there (analogue) photographers who have influenced your aesthetic and approach?
Many different influences, from lifestyle or portrait and still-life photographers. There are no specific names that I can name. I get and use a lot of inspiration from several industries and media. Also, photography and your own style is a process, you go in a certain direction but always try to refine it. I think in the end you are always looking for the new. Personal development is important in the end.
Do you have certain cameras and films that you prefer to work with?
The ones mentioned below. You know how to use them by now. But I also like to try out "new" camera models to see what appeals to me.
Speaking of films: What does your workflow look like? ​
In the beginning, I sent everything to different labs that were recommended to me. In between, I also developed (colour and b/w) and scanned them myself. Currently, I send the films to the lab here in Berlin and usually have them scanned as well. For freelance projects, I often scan them myself (with the classic Epson V600).
What advice would you have for other photographers who are reading this interview?
Try a lot of things, from the film material to the camera. In the end, it's not about the camera, it's more about creating something of your own with what you have. You won't make a better picture if you have the same camera as your idol. Get into the subject matter and see if you enjoy taking pictures — because that's the most important thing.
If you publish your work on Instagram: curse or blessing?
Publishing one's work for free on platforms where it reaches a few people is not all that bad. From that point of view, it's more of a blessing. Just don't let the numbers drive you crazy. Just because it doesn't go through the roof/viral doesn't mean it's bad.
Which 3 photo books can you recommend / should you definitely own?
"Dior" (Peter Lindbergh) & "Seeing Things" (Joel Meyerowitz)
Thank you so much for your time!
Favorites