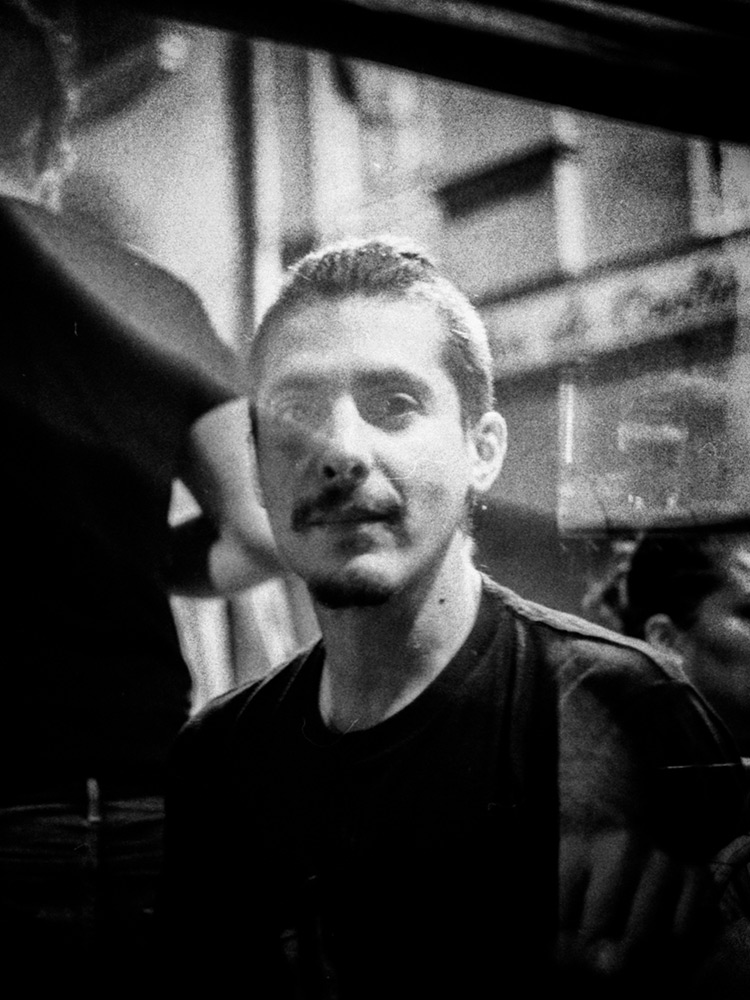 In conversation with
Mickaël André
Toulouse, France
Hi Mickaël, please introduce yourself.
I live in the south of Toulouse, France. I'm a musician so before Covid, I used to travel more and that was the perfect occasions for me to shoot different places and situations, even if time and space are kind of "hidden" in my pictures.
I started analog photography around 2009. I found an article about pinhole camera. I was fascinated by the idea of producing pictures with such a simple tool, so I tried with the matchbox DIY thing that is quite known I think and immediately fell in love with these images.
Then I started to buy analog cameras to master the whole shooting process a bit more. I learnt on my own, with a lot of reading from the Internet. There is so much to try and discover, especially concerning dark room printing, that I never felt the need to take some classes or workshop until very recently.
What does analog photography mean to you? What excites / fascinates you about it?
It means a different approach of time, and also moments away from the screen. But the most fascinating aspect is the surprise, the unpredictable, the unexpected. While I shoot, most of the time I long for finding something I can't remember about on the film. And even if there are some pictures that I compose carefully, I'm always after a form of surprise or any apparition on the film, and it occurs, that's what fascinates me about film. With this very important idea of wait, the image will come but later, and it's something that means a lot to me, to experience the wait. It's a whole different relationship with the act of producing an image, and this particular approach goes along the whole process of shooting, editing and printing.
In your opinion, what are the advantages and disadvantages of analogue photography?
The main advantage in shooting analog could reside in the personal learnings that goes along, I think. Taking time, make choices, save views, think about moderation, ask yourself why pressing the shutter button, reconsidering and questioning yourself because there are no screen to catch your attention at this very precise moment you could stare at it instead of thinking about what you just shot and how it affects you. This particular moment between shooting and developing the roll is open to such tracks of reflections on what happened and what you expect that it becomes philosophical at some points.
And all these thoughts are even more present when you print in the dark room, where you also learn to fail, most of the time, throwing away paper, time and money to get the print you see in your head can be seen sometimes as a total non sense, but here again, it's something to think about.
This idea leads me to the main disadvantage here, the price of everything related to analog photography of course. And not only film, papers and chemicals but also cameras becoming more and more expensive due to always the same people trying to make money on trends. Buying Leicas or Olympus Mjus twenty or thirty years ago was quite a good move If you want to make money nowadays.
Do you concentrate on a certain topic in your work? ​
Not really. I noticed that there is not much people on my pictures. I think I try to capture some feelings instead of some places and times, I try to learn things on me and it can be found in almost every kind of pictures, a street, a tree, a house, a sky, a shadows, a trace on the ground, it's hard to sum it up here but it's more about capturing a mood.
Are there (analogue) photographers who have influenced your aesthetic and approach?
Of course, Michael Ackerman's work had a very strong impact on me when I discovered it. Paulo Nozolino is an important discover also. There is a form of severity in his work that speaks to me, like multiple definitive observations of everything that has been caused to disappear, both material and spiritual.
For these two photographers, not only in their topics but also in their very graphic approach in printing, these very deep shades of blacks have always attracted me. Some of these influent photographers seems to cultivate that idea of rarity in their work I think, I like the idea of the stand alone strong picture, the one you can stare at for hours wondering how and why. Also, the fact that they deal with the whole process of shooting and printing holds my attention. Some japanese photographers from the 70's also, Kikuji Kawada and his book "Chizu" was quite a shock.
But when I think about influence, I try to focus on the fact that I live my own life and not theirs despite the fact that I use the same tools than these amazing photographers. I surely will never photograph any war or any concentration camps for example, I have to listen to my own feelings to be the most sincere I can. It's something I keep in mind when every pictures starts to "just" look as black and white analog photography. I guess some other photographers who evolve in that imagery must be thinking about that too.
Do you have certain cameras and films that you prefer to work with?
Films are always the same since I try to get some regularity for the corpus I work on for years, I call it "Ajar". So I stick to Ilford HP5 and sometimes Kodak Tri X, but this one isn't affordable anymore. I push them most of the time, because I love shooting at night or in low light, at 3200 iso generally.
Concerning cameras, it's different, it really depends on the mood and my ability to carry a bag or not. For years I've been shooting on any occasion I have to go out, so I just wanted to have a camera that fit in my pocket, these were my favorites since the beginning, Minox GT's are a must for this. Then a friend offered me a Ricoh GR1 which I really enjoy shooting with, the Lomo LC-A also, even if it offers a lot less control, but I love its particular rendering in black and white, I buy one each time the previous one dies.
I always liked all the rangefinders from the 70's, so I ended up in buying most of them, Canonet, Yashica Electro 35, Olympus RC etc… Then I started to be fed up on relying on electronics that always end up to fail at some point. I also wanted to focus more on reading light with my eyes, since it's probably the best light meter we can use. So I decided to go for a meterless camera, and keep only shutter speed, aperture and iso dials. I found a Leica M4-P at a super good price with the idea that it will be my last camera. Yeah, we all say that, but time will tell. haha !
Speaking of films: What does your workflow look like? ​
Here again I stick to the same workflow for years. I develop films by myself then I scan them to get an idea of what I have, then I print them from the negative in my darkroom. It's quite a humble one in my garage, I have to wait for the weather to be sweet enough not to cold or heat chemicals too much, but I can't imagine making photography without these darkroom moments, it's a huge part of my pleasure in producing images.
What advice would you have for other photographers who are reading this interview?
I don't know if it's an advice but I would encourage them to develop and print by themselves, because these are particular moments in the process of analog photography, and especially for what it brings on a matter of reflexion about the way you shoot, as if it was another way to make a link to your expectations. And finally, despite what it looks like at the beginning, it's not that complicated.
If you publish your work on Instagram: curse or blessing?
Hard to answer clearly but most probably blessing since it remains a good way to show your work and get some feedback. It depends on what you expect but I still see it as a "place" where you can discover talented artist and create some relationship with people with whom there could be some things to do to go ahead with your work.
I don't post that often since 2018 because I'm already exhausted by what the algorithm is requesting from users, especially posting on a regular basis but I still discover interesting photographers and creating some interesting moments in the real life.
Which 3 photo books can you recommend / should you definitely own?
"Half Life" from Michaël Ackerman remains a big big thing for me. Hard to find at decent price since it's sold out for years now.It embeds perfectly that question I was talking earlier. How does he live to find himself in these situations allowing him to take these pictures ? Is it the person he is who make his pictures release such intensity ? Where does the cursor is set between where you find yourselves and who you are to give a picture that direction ? These are questions that haunted me for years after I discovered his work.
The second one would be "Far Cry" from Paulo Nozolino, because it sums up quite well its style, I can browse it everyday.
Then I would say "Mayflies" from Dimitra Dede, the whole book is a pure beauty. Void, the publisher managed to transmit the beauty and the grain of her work quite well, making it a delicious item to handle, touch and stare at.
Thank you so much for your time!
Favorites