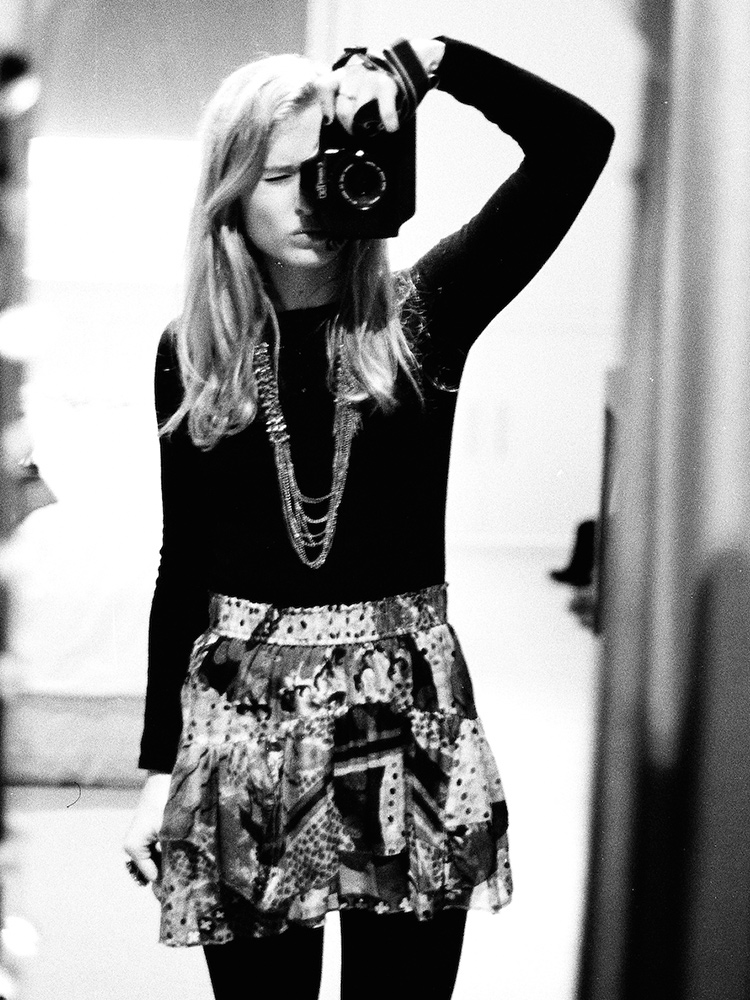 In conversation with
Julia Rambaud
London, UK
Hi Julia, please introduce yourself.
I'm from Paris but moved to London for over a decade now. I studied photography in high school when I was 16 years old, that's when my interest began. My dad gave me his canon T90 camera which I've never left since. I loved taking photographs then developing them in the dark room. I studied it for a year, then I carried on by myself. Then I was working as a chef for a little while but now I'm a full time photographer. I've also released a few artsy guides about Ibiza & Paris, showcasing my professional work and giving my restaurant tips in those places. I managed to combine my two passions in those books. The next one coming out will be about London by the end of the year. The series are called "On The Other Side of Paris/ Ibiza/ London" which you can find online and in stores.
What does analog photography mean to you? What excites / fascinates you about it?
Analog is the way photography was first invented. I think you need more preparation and concentration as you have to wait until you see the results, not like digital where you can rectify mistakes straight away. The suspense of capturing a moment and discovering it later is really intriguing.
In your opinion, what are the advantages and disadvantages of analogue photography?
Zero desadvantages except the costs perhaps. Films & developments are pricy. And you will probably end up with one or two amazing pictures on one roll (if you're lucky) but that's part of the game, which makes it more exciting. I like the fact that you have to wait to discover your photographs. That patience you have to have.
Do you concentrate on a certain topic in your work? ​
I started with landscapes, for many years it was my favourite subject. I didn't like photographing people at first. Years later, I tried to do some portraits and really enjoyed it. During covid I began taking photographs of ladies and that was it. I love that topic, also the encounter with those women I meet. People seem more interested by that subject too somehow haha. I feel that we always evolve and get into different topics throughout the years.
Are there (analogue) photographers who have influenced your aesthetic and approach?
My number one and very cliché is Robert Doisneau then of course Ansel Adams for his landscapes. Also Vivian Maier. I love that those people were able to capture moments around the 50s. I wish people were still dressed like that I would do way more street photography. I love that we get lost in time, that's what I am trying to reproduce with some of my photos.
Do you have certain cameras and films that you prefer to work with?
I'm more about the image than the camera so I never really experienced with other cameras than my good old Canon T90 which works so well, it never let me down. It's the Rolls Royce of analog camera I think. I've tried a few different films but the one I always come back to is Ilford HP5.
Speaking of films: What does your workflow look like? ​
I don't really develop my photographs myself anymore, unless I want to create a special effect on some of the pictures. Otherwise I have an amazing developer in London called Blaze Image, which I trust.
What advice would you have for other photographers who are reading this interview?
Exposure, shutter speed and aperture, I think they already know that. Just patience, passion and perseverance that's what you need to make it work. Go out there and show you work as much as possible, via social media and exhibitions.
If you publish your work on Instagram: curse or blessing?
Blessing as I manage to show my work to the world and get bookings, exhibitions and sells through it. I also discover the work of others which can be inspiring. But: also a curse as I end up spending too much time scrolling down for no reasons. Brain damaging.
Which 3 photo books can you recommend / should you definitely own?
My first photography book ever given to me, was a gift for my 15th Birthday from my best friend: "Heaven to Hell" by David Lachapelle. Beautiful massive book, which I love. He was my first favourite photographer. "The Decisive Moment" by Henri Cartier-Bresson which is also one of my favourite. I recently went to see the exhibition of Helmut Newton where I got his book: "Riviera". Incredible man.
Thank you so much for your time!
Favorites