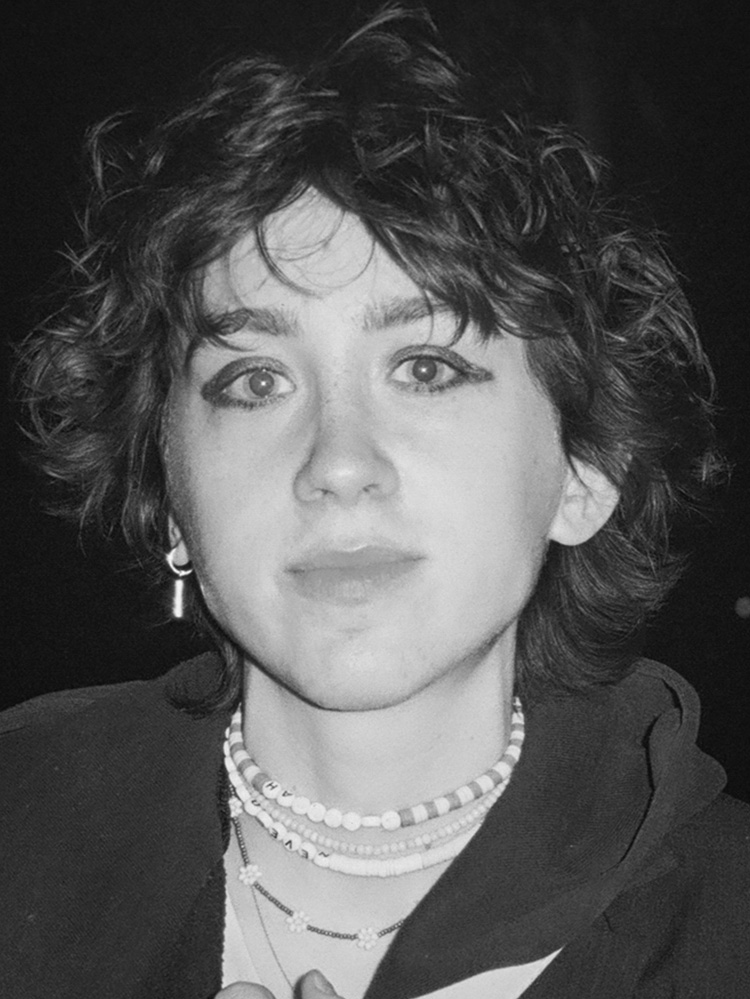 In conversation with
Laura Valerie Mitterer
Barcelona, Spain
Hi Laura Valerie, please introduce yourself.
Hey! I'm Laura Valerie, I'm 23 years old and currently studying film in Barcelona. This probably already explains my fascination with images, doesn't it? Well, I actually always liked still photography. My first camera was digital – I think the passion for analogue film started when I discovered the cupboard containing my parent's old cameras. I got so excited and interested and from then on pretty much everything that's connected to analogue photography and film steals my heart. (my apologies to the digital camera, it has been neglected for a long time now)
I never studied photography, this year was the first time for me to ever learn the actual rules about lighting and the technical aspects of photography (how well I'll decide to follow them is another question)
What does analog photography mean to you? What excites / fascinates you about it?
For me analogue photography is the ultimate blessing. I love everything that's detached from any type of modern technology and functions without a crazy amount of batteries and monitors. It makes me focus and relax, I don't have to worry about these type of things. Also the whole process feels so exciting and special to me. From the moment you press the shutter to the point where you hold the print in your hands – it's just wonderful and intuitive. I think and shoot differently when I'm looking through an analogue camera.
In your opinion, what are the advantages and disadvantages of analogue photography?
Everything I said before. Plus, it really makes you understand how photography works. But of course its really pricey.
Do you concentrate on a certain topic in your work? ​
I guess I like looking at all kinds of photographs. But sure, in my own work there are some things that just interest me more than others. I really like taking photos of people and their environments because the variety of unnoticed lives and stories that surrounds us fascinates me. I guess you could say it's kind of documentary style.
Are there (analogue) photographers who have influenced your aesthetic and approach?
I saw a documentary on Vivian Maier quite some time ago when I wasn't really shooting analogue yet and I remember it really impressing me. Her pictures make you feel how this certain moment captured only lasted for a second and would have been unnoticed if it wasn't for her. Also the way she kept all these photos and undeveloped film in boxes for so long – it's just so strange, I like it. Oh and google Maika Elan.
Do you have certain cameras and films that you prefer to work with?
I honestly haven't had the possibility to work with many different cameras yet. All the cameras I own I found in some cellar or attic. The first analogue camera I picked up, the Olympus OM-10, is still my go-to, it's easy and fast and pretty lightweight and works for a broad range of situations.
Of course you dream of trying all those wonderful high class cameras but to some extent I believe that a good photographer can do great things with less prestigious material. I see it as a challenge for now.
Speaking of films: What does your workflow look like? ​
In Vienna I had the possibility to develop and scan my own color film together with a friend. That was great. Right now I bring my films to the lab and keep the scans on my laptop and the films in my shelf. I occasionally edit some of the pictures but if I do I only make minor adjustments to underline what I like in the original. I don't mess around with them too much. Unless I want to. Anything is allowed anyway!
What advice would you have for other photographers who are reading this interview?
There's no right or wrong. Just let yourself be free creatively and go with your gut.
If you publish your work on Instagram: curse or blessing?
Puhhh. I don't know! I think it offers a space to show what I'm doing and I definitely made some great connections on there. But also I really dislike social media and it's not really suited for sharing pictures that are made with a lot of thought and passion. Everything gets adjusted and cropped. I'm thinking of how to share my photos in a way that suits me better. I'll keep you updated.
Which 3 photo books can you recommend / should you definitely own?
The ones in your own home! I love looking at old pictures, I could do it for hours. These are the pictures that got taken not to display them but to capture things that mattered to a certain person at that time.
But of course it's also nice to check out specific works – especially by photographers that live in different countries and cultures than me (I usually take the chance and look at them at the bookshop/library).
Oh yeah! I got a great gift once. It's a book with memories of the author Orhan Pamuk and photos of the famous Turkish photographer Ara Güler. These combinations of storytelling and images really amaze me.
Thank you so much for your time!
Favorites