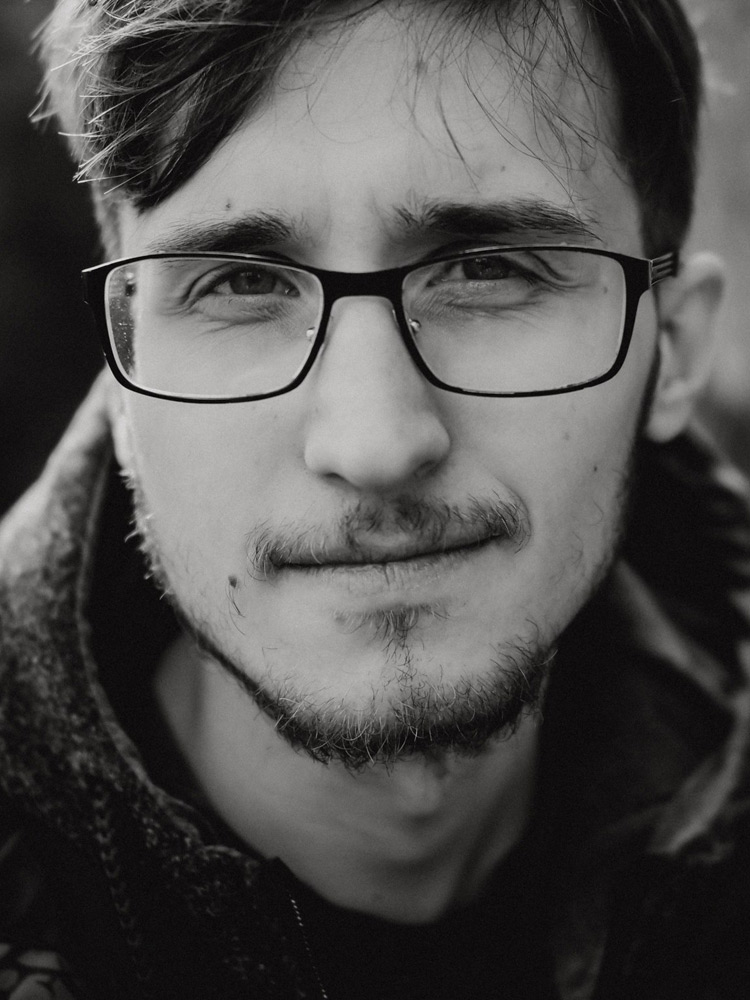 In conversation with
Łukasz Spychała
Wrocław, Poland
Hi Łukasz, please introduce yourself.
Hello! My name is Łukasz Spychała and my artistic pseudonym is "Koneser". I am a self-taught photographer. I am 28 years old and I have lived in Poland, in Wrocław, since I was born. In fact, photography is my whole life. My parents were passionate about photography. Dad had his own darkroom, and Mom still creates beautiful digital landscape photos on her mountain trips to this day. The camera quickly found its way to my neck and just as quickly I realized that I was closer to analog than digital photography.
I have been taking photos since middle school, when I am about 14 years old. I started my adventure with a digital camera. During my studies, I decided to buy my first analog camera, which has been my primary camera ever since. This is the Mamiya RB67 Pro-S camera. I graduated from the Wrocław University of Technology. I am a Master of Science in Computer Science and I work as a programmer on a daily basis. During the third year of my studies, I joined the Agenda of Culture of the Wrocław University of Science and Technology and then I made a conscious decision that I wanted to deal with analog photography. I love the unpredictability in it, as well as the ability to work carefully on each frame. I think it's the most beautiful kind of photography ever made.
2022 was a great adventure for me. I won the title of Professional Analog / Film Photographer of the Year in the International Photography Awards 2022!
What does analog photography mean to you? What excites / fascinates you about it?
Traditional photography is a completely different approach and style of work. I really like working on a given frame and improving it. Pressing the shutter button is the last step and sealing the frame and details, which I am sure should be exactly like this and not otherwise. When creating photos, I feel calm, as if my time with the model has slowed down. I take a breath and realize what is in my head at the moment and what moves my heart.
In your opinion, what are the advantages and disadvantages of analogue photography?
The advantage of analog photography is that it forces you to think over every frame. When I press the shutter button, everything in the frame fits me and it's practically ready for publication. Such a photo is much more valuable to me than a digital photo out of several thousand taken during the session. And the negative with the photo can be taken into your hands and touched. It is something tangible!
The disadvantage of traditional photography is when I have an almost perfect place and some element disturbs me, which I am unable to move. I give up creating frames in this place, because the background for my photos must be perfect from the start. Due to the rising prices of films and equipment, traditional photography is definitely more expensive than digital photography. In addition, it is getting harder and harder to find people who can repair this type of equipment. Traditional photography consumes much more time during the session itself compared to digital photography. I am also unable to show the effects to the model, so I try to do a few Instaxes so that the model has a taste of the finished effects.
Do you concentrate on a certain topic in your work? ​
Portrait, definitely. My artistic activities are always closely related to what I am currently experiencing in my private life. Each of us has a time when we appreciate all the moments that escape us and try not to miss any of them. I try not only to save them in my memory, but also to expose them on film. I often try to do the opposite and recreate special moments when I didn't have a camera with me to fully experience them. I try not to pigeonhole anyone, especially myself, artistically and privately. Regardless of the coherence of my work, I always try to tell with frames what is most important to me at the moment.
I am mainly inspired by places. Wherever I go, I pay close attention to what surrounds me. I am inspired by what becomes the background for my photos. I often get the impression that it is places that bring back memories and emotions so strong that, in a way, they form my frames. A wide range of art installations, paintings, sculptures, music and films exerts a great influence on me.
The greatest achievement for me is the moment when the viewer sees a part of himself in my photos or remembers some unusual memory or story that happened to him. Sometimes it is a story in line with what I wanted to tell, and sometimes, thanks to the conversation with the recipient, I can see that I have unconsciously told more than I intended with the given frame. There is no greater achievement for me than heated discussions about my photography. They are always my next thoughts. I believe that they develop me as an artist and often inspire me to tell another story. Moreover, I think that the greatest disappointment for a photographer is when his photos do not arouse any emotions.
Are there (analogue) photographers who have influenced your aesthetic and approach?
I think that all the photographers I met on my way had a greater or lesser influence on me. I always try to gain a lot from meetings with other people, and not only those with people from the photographic industry. What's more, I think that the models, not the photographers themselves, were and are my greatest inspiration. The most important thing for me in the frame is the man, his energy, the way he is affected by the place of the session or my idea of who he could become.
Everything that our eyes absorb has a more or less conscious influence on us. Therefore, I believe that the creators of films and series, as well as artists of all kinds of visual arts, have a great influence on my photography. Maybe it's unreal these days, but I try to create something new so that I can look in the mirror and call myself a real creator, not a re-creator. However, I try not to inspire and not look at other people's photos. I believe that they can get stuck very quickly in our subconscious and make us try to recreate them, even involuntarily.
Nevertheless, in my house you can find photo albums of photographers such as Helmut Newton, Gregory Crewdson and Nobuyoshi Araki. I am also following other photographers from my country. I get my greatest inspiration from painting. From images and their colors, textures, contrasts. I really appreciate the works of Edward Hopper.
Do you have certain cameras and films that you prefer to work with?
My basic camera is the Mamiya RB67 Pro-S medium format camera. Standard film backs for this camera are in 6×7 format, but I have been using 6×6 film backs for some time. I mostly use the Mamiya-Sekor C 65mm f/4.5 lens, but I also have the Mamiya-Sekor C 50mm f/4.5, Mamiya-Sekor C 90mm f/3.8, and the Mamiya-Sekor 180mm f/4.5. In addition, I very often use a monopod, a camera grip, and a prism, but I mostly use a waist camera finder.
Recently, I have been very fascinated by instant photography. I have several Polaroid cameras for Polaroid 600 films, but my latest love is the converted Instax Square SQ1 – "Frankinstax", so I can connect it to the Mamiya RB67! This is a really cool thing as it allows you to take photos of Instax Square films with my Mamiya and her lenses. The quality is really amazing!
I started my adventure with analogue photography from black and white films. I really like Ilford materials such as FP4+ or HP5+. Recently, I have been photographing more often in colour films. I love the Kodak Portra 400 and 800, as well as the CineStill 800T. I also have a lot of expired films, such as Agfa XPS Portrait 160 or Kodak Portra NC and VC series, which allow you to get unique colours.
Speaking of films: What does your workflow look like? ​
I develop black and white films myself in the bathroom at home. I mostly use Kodak XTOL or Rodinal developer and Fomafix fixer. I use JOBO System 2520 Multi Tank. I develop color films at a local photo lab. They offer very good value for money! For film scanning, I use the Epson Photo v700 flatbed scanner with Silverfast and Adobe Photoshop CC software to remove dust and scratches from negatives.
What advice would you have for other photographers who are reading this interview?
Don't try to pursue the ideal. Don't be ignorant. Regarding the enhancement of your technical knowledge, do not hesitate to consciously use certain treatments that are not correct as long as it strengthens the message of your works. Know the rules well in order to break all of them at the right moment in a way that will surprise others. Don't try to please all of your audience, as it is impossible. Enjoy what photography gives you. Appreciate all her surroundings. Thanks to her you travel a lot, meet great places and even better people. Remember to talk to others about your photography, but always filter your audience's remarks. The photo is good as long as you are completely satisfied with it yourself.
If you publish your work on Instagram: curse or blessing?
Posting photos on Instagram is both a blessing and a curse. You can discover unknown, small creators, watch the backstage photo sessions of models known to us from every corner of the world, and it is also very easy to make contact with someone from the other end of the globe – talk, congratulate your success, and even ask for advice or portfolio review.
It's also a curse, because the multitude of possibilities and images before our eyes often causes overstimulation and people are no longer willing to take the time to watch new creators. It's definitely harder to break through and show your work. Also, Instagram has a very vague policy on coverage and posting of nudity. It's not fair to appeal for something and talk to someone for support.
For many artists dealing with the subject of corporeality, unclear rules of censorship, deleting photos and even entire accounts are a nuisance. In addition, you can see that accounts with millions of followers have content that would not hold up on accounts with fewer followers, which shows that on Instagram they are equal and more equal.
Which 3 photo books can you recommend / should you definitely own?
John Thornton, "Pipe Dreams", Radosław Pujan, "Kobiety" and Zdzisław Beksiński, "Beksiński. Obrazy"
Thank you so much for your time!
Favorites