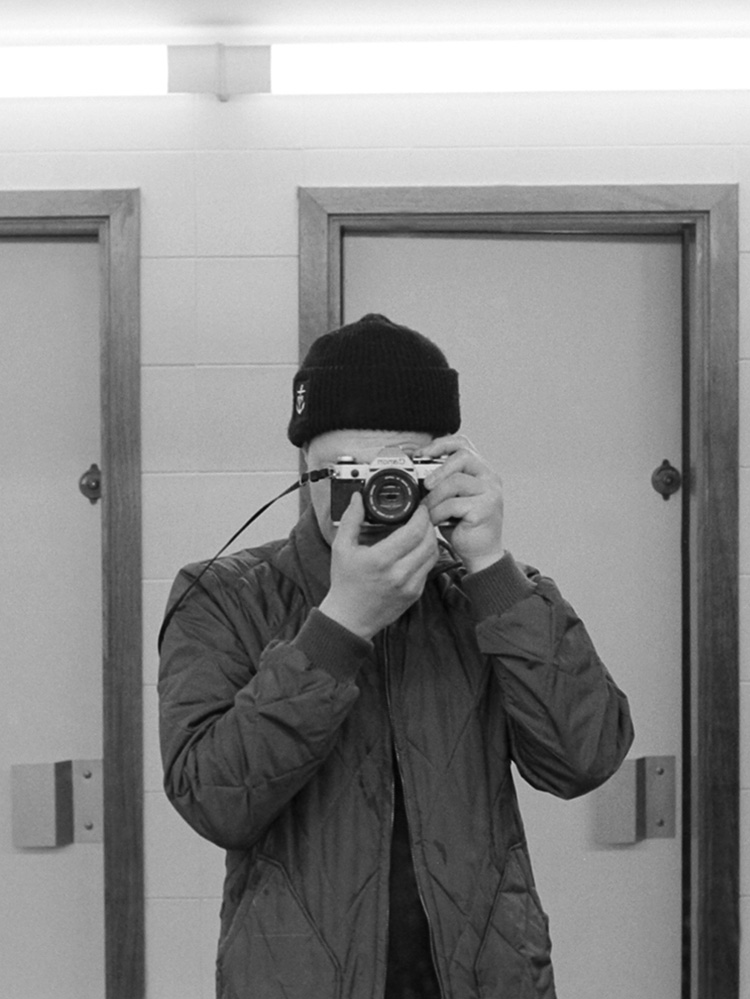 In conversation with
Matthias Welker
Erlangen, Germany
Hi Matthias, please introduce yourself.
My name is Matthias Welker, I am 41 years old and come from Erlangen near Nuremberg. I've been a skateboarder for over thirty years, a dog owner for twelve years and have been earning my bread and butter at Bretterbude Skateshop in Erlangen for eleven years. I came to photography via videography, as I used to film a lot in the field of skateboarding. In my environment there were two or three people who were quite active in the field of photography and so one thing led to another. In the meantime, I've been taking photos exclusively in analogue for about twelve years.
What does analog photography mean to you? What excites / fascinates you about it?
Analogue photography is the genre of photography that I feel most comfortable with and can identify with.
In your opinion, what are the advantages and disadvantages of analogue photography?
You learn from scratch how photography works and have everything in your own hands from start to finish. However, this can also be a disadvantage, as there are many steps to take before you get the finished photo.
Do you concentrate on a certain topic in your work? ​
My focus is primarily on skateboard photography, but because I'm also out and about a lot with my dog, landscape photography is also a favourite of mine.
Are there (analogue) photographers who have influenced your aesthetic and approach?
Certainly, but the first few years, if then rather unconsciously. For some time now, I've noticed that Ansel Adams' workflow appeals to me the most.
Do you have certain cameras and films that you prefer to work with?
For skateboarding, I mainly use the Canon AE-1 with various lenses. For landscape shots I usually use a Leica IIf, and for all other snapshots the Konica Hexar AF. In the beginning I tried many films, but now I only use Kodak T-Max films.
Speaking of films: What does your workflow look like? ​
Taking photos – developing film – scanning with DSLR – Photoshop & Lightroom
What advice would you have for other photographers who are reading this interview?
ALL IN!
If you publish your work on Instagram: curse or blessing?
Both. In my opinion, Instagram is the best tool in the social media sphere for drawing attention to yourself and presenting your photos. However, if a photo disappears in Instagram's algorithm, that's rather a pity. But before a photo sits on the hard drive and no one sees it, I'd rather post it on Instagram. A colleague once said to me, "If you don't show what you're doing, no one will see what you're doing." That's how I see it, too.
Which 3 photo books can you recommend / should you definitely own?
Ansel Adams – "Das Negativ"
Thank you so much for your time!
Favorites