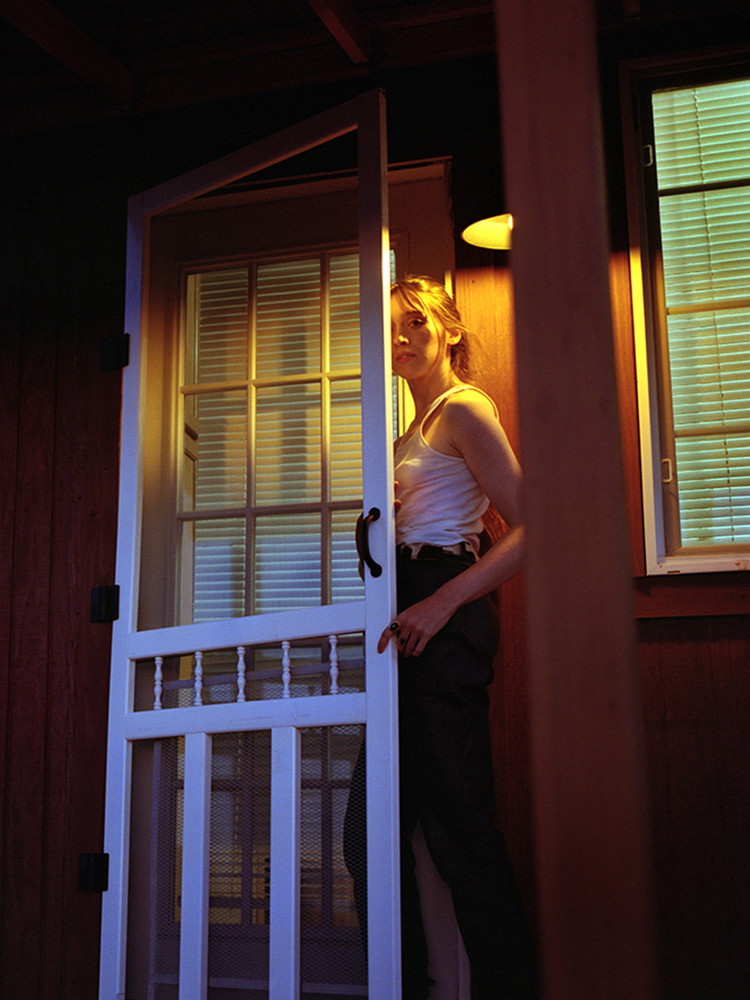 In conversation with
Nika De Carlo
New York City, USA
Hi Nika, please introduce yourself.
Hello! My name is Nika De Carlo. I am a medium format film photographer currently working and living in New York City. I first found film photography when I was young, about 16 years old. I was gifted a film camera and the process and special nature of taking film photographs immediately sparked my interest. My first roll of film was taken on my birthday, exploring New York City and romance with my first boyfriend. I experimented with film photography from then onwards. When I attended college at Pratt Institute for photography, I realized the true power that film photography offers and possesses. Because I was self taught up until this point, I was relying solely on making photographs based on my feelings and impulses. Learning about this medium in this new atmosphere taught me how to produce images that combined my desires with a new skillset, opening doors to greater artistic possibilities. 
What does analog photography mean to you? What excites / fascinates you about it?
As cliché as it may sound, analog photography represents the ability to hold onto a memory that I otherwise wouldn't be able to. Whether it's the moment of a lover's touch grazing my skin, a nightmare I can't understand, or a desire I can't let go of, it allows me to transform this from existing in my mind into something tangible. It's something that I can return to. Even if no other eyes see it, I know it exists with me. This ability to hold onto something so fleeting is what fascinates me most about it. Whereas digital photography seems very impermanent to me, the process of analog photography gifts me a physical object. The negative is an extension of my emotions – something I can feel with my hands, study, and keep forever.
In your opinion, what are the advantages and disadvantages of analogue photography?
A strong advantage that analog photography offers me is the ability to slow down as I create work. For example, because my camera only offers ten images per roll, I am forced to work with much more intention and to be more specific in what I am trying to capture than if I was working in a digital format. Likewise, the process of scanning negatives by hand gives me the opportunity to look closely at my images more as singular pieces of art apart of a series, rather than sifting through many frames that are likely very similar with small differences among each of them.
The main disadvantage of analog photography is the rising prices of film and developing costs, as well as the costs of general supplies, such as scanners and other accessories needed to access the images. Another disadvantage is the waiting period of the images to be ready. This is usually something that I look forward to for a personal series – it helps clear my mind post-shoot which gives me a fresher set of eyes to see the results – though in a professional sense, it can be hindering and a bit stressful in getting photographs to a client. 
Do you concentrate on a certain topic in your work? ​
Yes! I've always been drawn to portraiture, specifically photographing myself and others close to me for an extended period of time. Recently, I've been trying to delve more into documentary photography.
Are there (analogue) photographers who have influenced your aesthetic and approach?
Yes! Nan Goldin has always been a great source of inspiration to me. Other film photographers I look to for inspiration are Francesca Woodman, Diane Arbus, Brenda Kenneally, Mary Ellen Mark, Davide Sorrenti, Philip-Lorca di Corcia. The list could really go on forever!
Do you have certain cameras and films that you prefer to work with?
While I was studying at Pratt Institute, I discovered the Mamiya 7II and it has been my favorite camera since – it has always been the main camera I make work with. Portra 400 is my main go-to film, however I also love to use CineStill 800T for low light situations. The color it produces is so rich and beautiful.
Speaking of films: What does your workflow look like? ​
I have a color lab I've been going to for over ten years that processes my film, though I would love to learn how to do it myself one day. I scan my own film with an Epson v600 flatbed scanner, I highly recommend this one! Scanning is such a meditative process for me. I use Photoshop mainly for dust removal – I like to keep the photographs looking as true to the original as possible.
What advice would you have for other photographers who are reading this interview?
Make work solely for yourself and don't question whether or not others will like it, judge it, or understand it. At the end of the day, no one has to see your photographs but you. Once you let the other perceptions of your work enter your artistic mind, it will eventually kill your creative spirit. Be honest with yourself and take risks. If you're ever stuck with creating a series, try to focus on what only you have access to in your personal or private life.
If you publish your work on Instagram: curse or blessing?
Honestly, both! I've found a lot of amazing opportunities through Instagram, and right now it's one of the main sources to find work or even subjects to work with. The curse of Instagram is that it's so easy to fall into the trap of thinking, "What do others want to see?" This can cause so much self doubt with your work. I've taken a big break from Instagram for this reason and it definitely helped me reconnect with myself creatively. I think if you want to post to Instagram and can do it without looking at the likes or comments, that's a good place to be. 
Which 3 photo books can you recommend / should you definitely own?
"The Ballad of Sexual Dependency" (Nan Goldin), "Streetwise" (Mary Ellen Mark) and "Monograph" (Diane Arbus).
Thank you so much for your time!
Favorites