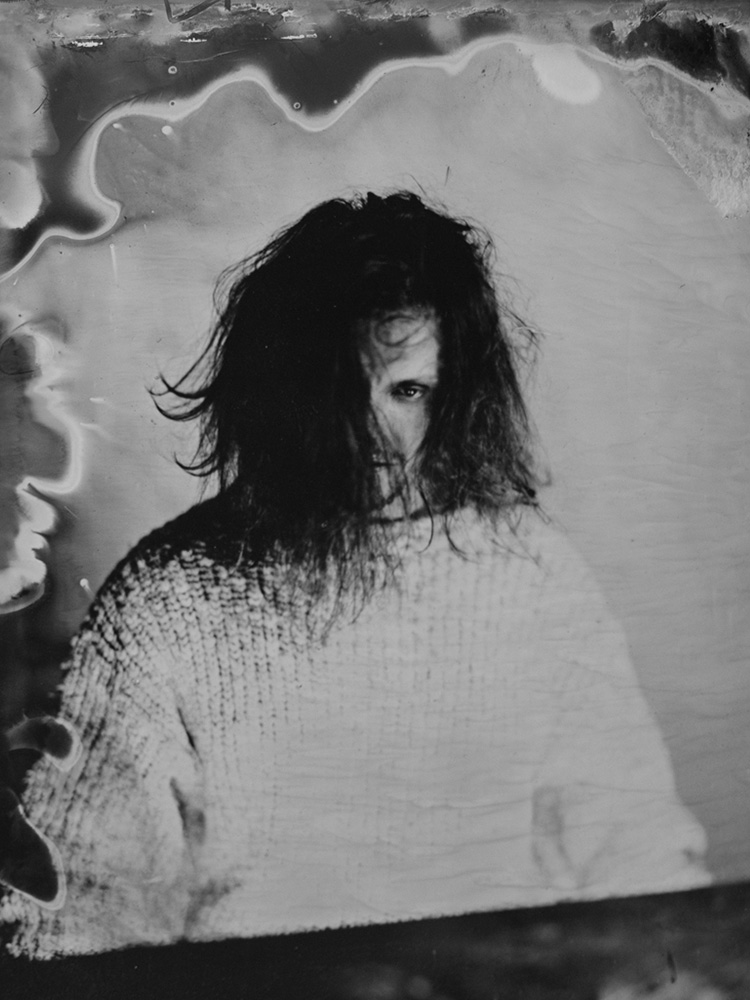 In conversation with
Przemysław Kot
Łódź Voivodeship, Poland
Hi Przemysław, please introduce yourself.
I live in the Łódź Voivodeship in Poland. My adventure with photography, so conscious, began in 2012. I started with digital cameras. In 2014 Łukasz Gliszczyński Argoth showed me analog photography, which I immediately fell in love with. I am self-taught, I interrupted my studies because they did not develop what they were supposed to develop. A flower that grew on concrete. This passion for photography allowed me to break out of the environment where most people have no prospects for a better tomorrow, and life drags people to the very bottom.
Fortunately, there were people in my life who believed in me and reached out a helping hand. Under the supervision of Kamil Biliński, I polished my technical knowledge in terms of analog photography, starting from developing photographic plates, through working in the darkroom with an enlarger, to noble techniques such as wet collodion or cyanotype.
What does analog photography mean to you? What excites / fascinates you about it?
For me, analog photography is a mirror of the soul, it allows me to realize what is going on in the mind of the creator. What excites me the most about it is it's not entirely predictable form. This element of the case. Something that finally sets the right tone. The very process of handling photosensitive materials is a kind of ritual in which its celebration takes place, noticeable especially in the final process, when I put on white gloves, gently blow off the film from pollen, precisely cut out the frames and hide them in parchment sleeves for binders.
In your opinion, what are the advantages and disadvantages of analogue photography?
Hmm, analog photography is a kind of oxymoron. What is a disadvantage is also an advantage. Namely, it is about limiting the frames of the photos taken. This forces the creator to be more demanding in relation to what he does, have more thoughtful frames, and be more aware of what he wants and how he wants to get it.
Analog cameras also have the advantage that they are much cheaper to buy than their digital counterparts. However, their definite disadvantage is the operating costs that cause a significant hole in the wallet. It is a constant spending of money on a photo medium, which in this case are photographic films.
Do you concentrate on a certain topic in your work? ​
My photos are a constant evolution. For several years, I photographed a female nude. However, as in everything that is done for a long time and intensively, there comes a time for rest. This is the time for reflection, wondering if what you've been doing so far you still want to continue, you just need to miss it or it's time for changes.
Changes are quite risky, especially as over the years we have acquired a group of recipients who love us for this style of taking photos. It's like, for example, a music artist has released ten albums and this 11th is completely different. However, despite this change, it is still the same person. And when we delve into this 'new', it will allow us to feel that it is the same man, only in a slightly different version. This change is facilitated by the fact that we have experience and knowledge acquired earlier, which allows us to start from a slightly different level. It wasn't the kind of change that suddenly changed everything. The human being has always been the foundation of my work.
From a female nude, I switched to a subjective documentary. I have devoted all my photographic time to people and their diversity. If I'm not taking pictures, I enjoy watching people, I admire their differences, I don't judge, I don't impose anything, I just like watching them like fish in an aquarium, it calms me down and makes me delighted. Maybe someday I'll change over time, who knows, and then I'll start photographing flowers (laughs).
Are there (analogue) photographers who have influenced your aesthetic and approach?
At the very beginning, I was influenced by photographers from Poland, such as Łukasz Gliszczyński Argoth, Marcin Twardowski and Albert Finch, whose work I knew from the Internet. Now, after many years, we know each other personally, and I can confidently call them friends. The deeper into the forest, the more I became fascinated by photographers from all over the world, whom I became fascinated with. This group includes Helmut Newton, Araki and Elmer Batters. And now Diane Arbus, Bruce Gilden and Ruth Kaplan.
Do you have certain cameras and films that you prefer to work with?
My primary camera is a 6×6 Kiev 60 medium format camera with two Zeiss Jena 4/50 and Volna 2.8/80 lenses. When it comes to color films, most often Kodak Portra in monochrome used to be Ilford delta now most often Foma Czech production because it is the cheapest available on the market.
So to sum up I like bad cameras and not the best films but thanks to this the recipient at first glance knows in a second that it is made with analog and not digital, because such an image is almost dripping with its analog imperfection.
Speaking of films: What does your workflow look like? ​
It is important to know all the developmental processes and learn them. But over time, when the hundredth film is developed and the darkroom is in the privy bathroom, which the rest of the family also wants to use, it starts to become problematic. Personally, I don't think there is any magic to it, but rather painstaking work, especially when you have different photographic films to develop. You work differently under the enlarger, where you can see the process of creating the image, then magic happens.
And so, over time, I began to submit films to the laboratory. Leaving only the scanning process to yourself. I scan the entire frame together with the frame/perforations and often publish it on the Internet. It shows that after conversion to the digital version, the photo is no longer cropped by the computer and remains as it was when I took it, looking at the moment when I pressed the shutter button through the focusing screen. In general, when it comes to processing in programs, I try to have as little interference as possible.
What advice would you have for other photographers who are reading this interview?
In my photos, I have always been guided by an open mind and what my heart told me. That my work gives me pleasure. If others liked it, I was happy and motivated, but my biggest driving force was satisfaction. And that's what I wish for others. Create so that you are liberated in it and enjoy it. Remember, it's good to talk about photos, but even better to take them.
If you publish your work on Instagram: curse or blessing?
Both. Before that, I hadn't uploaded photos online for a long time. I assumed that if I had to show my works somewhere, let them be prints on the walls of the gallery in good lighting, and not through the prism of a monitor or, worse, a smartphone.
However, over time, at the instigation of other photographers and my own thoughts, I decided that let it happen, I start posting on Instagram and Facebook. In order to function well in the times in which one lives, the artist must find himself in them. I regret censorship the most, because I have a lot of nudes in my achievements, but agreeing to publish in social media, I had to respect the rules there and not give a reason for blocking them.
After some time, I can say that it was a good move, it opened many doors. This is why I owe my participation in this interview.
Which 3 photo books can you recommend / should you definitely own?
Helmut Newton – "SUMO", Ryan McGinley – "Way Far" and Vivian Maier – "Street Photographer".
Thank you so much for your time!
Favorites