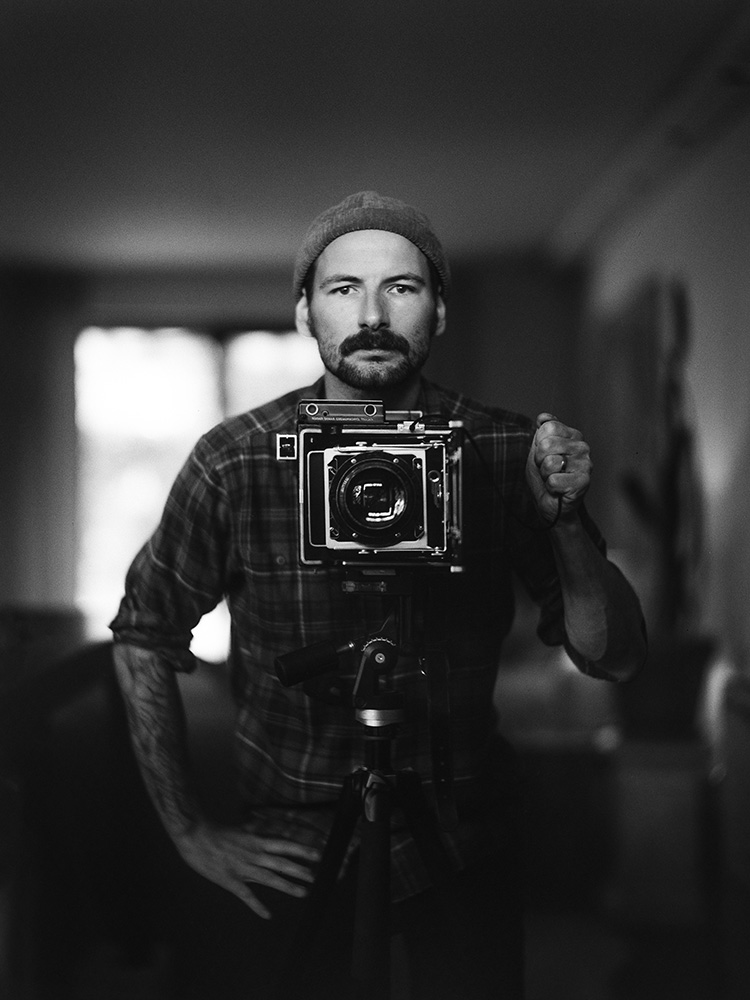 In conversation with
Tobias Urban
Kleve, Germany
Hi Tobias, please introduce yourself.
My name is Tobias Urban and I live and work in the small town of Kleve, which is located at the Niederrhein. In my youth I was surrounded by video and photo early on due to my past as a skateboarder, as we always filmed and photographed each other. However, I personally was more attracted to photography over moving images. At the time it was common practice to do skateboard photography analog and so I had also quickly gotten my first Canon AE-1. With some digital slips it has remained until today with the analog. The photography I have taught myself and have neither learned nor studied it.
What does analog photography mean to you? What excites / fascinates you about it?
I love the reduced, essential and above all haptic things about it. In general, I am very interested in rather nostalgic things, so I buy my music on records, drive cars from the 80s or 90s and just prefer to photograph on film. I find it exciting to be able to use an analog camera and to be able to narrow down and consciously determine the result in advance through the choice of film. Film gives me in my results exactly the look that I want in my pictures.
In your opinion, what are the advantages and disadvantages of analogue photography?
From today's point of view, I would see the rather high film prices and second-hand prices of analog cameras as a disadvantage. This makes it quite difficult to get started and quickly limits the choice of film and cameras. For me, the decisive advantage is the results that come from analog. The perfect and imperfect combined gives me exactly the image result that I can not produce purely digital.
Do you concentrate on a certain topic in your work? ​
In my early days it was clearly skateboard photography, followed by portrait, fashion and lifestyle. Today it's more of a colorful mix of everything. I like to photograph strangers, but also friends. But sometimes I also like to consciously have no people in my pictures. I like to pay attention to shapes, colors and lines. I no longer have a specific focus.
Are there (analogue) photographers who have influenced your aesthetic and approach?
First of all, I would mention Théo Gosselin. A young French photographer who knows how to perfectly combine portraits and lifestyle. In his free works he documents his road trips through the USA with his friends. He manages to capture mood, colors and casual moments, which almost captivate you when you look at them. This way inspires me very much and gives me the feeling of freedom and art in photography.
Do you have certain cameras and films that you prefer to work with?
I probably have too many cameras, but the Leica M6 is the tool of choice for me. The imaging performance of the high-quality lenses combined with a small, quite unobtrusive camera create the possibility for me to capture important moments always and everywhere. However, I also like to use smaller point & shoot versions or, in the portrait and landscape sector, my medium format camera, the Pentax 67.
When it comes to film selection, I'm rather unspectacular and usually, but not always, rely on the classics Portra 400 and in b&w on the Ilford HP5. Both films are the most flexible in their ranges and, because of their consistency, give me the most control over my shots.
Speaking of films: What does your workflow look like? ​
As my partner and I run our own photo lab as our main occupation, it is only natural that the process of film development and digitization is in my own hands. Under perfect laboratory conditions, I can thus produce my own results with today's technical standards and control and influence the process to the highest quality. Digital post-processing of my photographs does not take place 99% of the time. The choice of camera, film and process should determine my result.
What advice would you have for other photographers who are reading this interview?
I think everyone should try out their photography. I don't say no to digital photography, but still prefer analog and that's exactly what everyone should have done. The feeling of exposing the first film and seeing the first results is indescribable. A single good picture on a 36 film gives you more satisfaction than 100 good ones on a memory card.
If you publish your work on Instagram: curse or blessing?
As far as publishing my photos is concerned, I'm rather reserved and don't attach so much importance to it anymore. In the past, I was very much guided by the algorithm, and Instagram virtually determined which shots I showed when and how. Today, I don't really care and I share something when and how I want to, regardless of the response.  Due to the strong influence of Instagram on its own image selection, it is a curse. But because of the high level of connectivity to other like-minded people, it's more of a blessing.
Which 3 photo books can you recommend / should you definitely own?
Théo Gosselin – "Roll": Simply inspiring and captivating in terms of imagery. Magnum – "Contact Sheets" (Hardcover): Very interesting excerpts from the negatives of legendary photographers of the time. Peter Lindbergh – "Untold Stories": Simply terrific, without words.
Thank you so much for your time!
Favorites