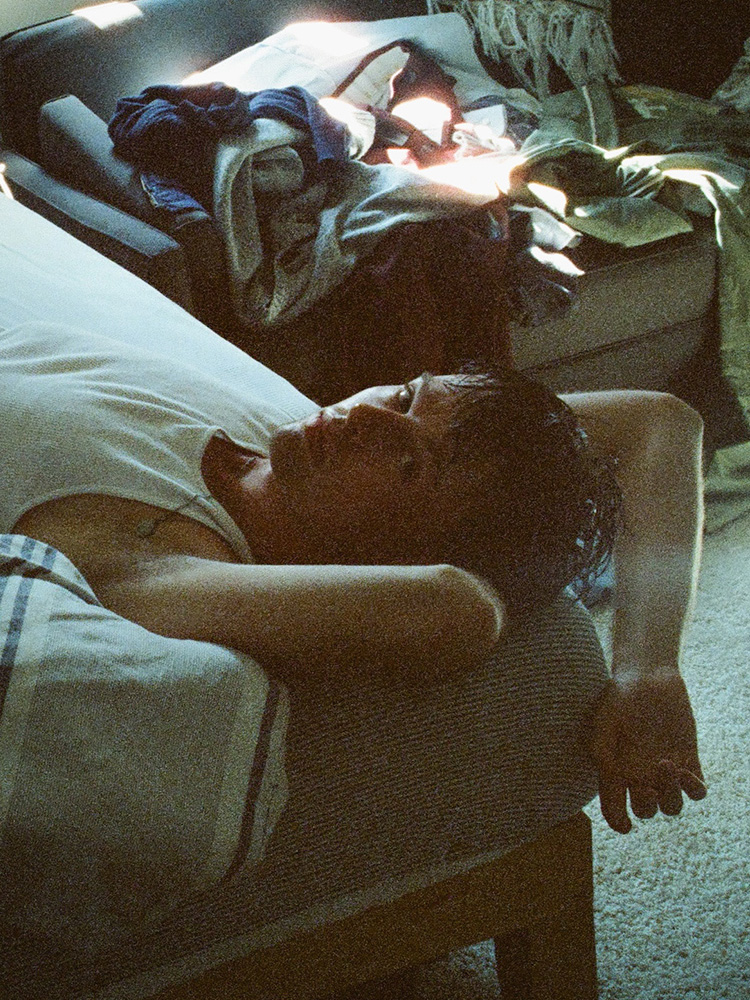 In conversation with
Colin Lee
Bargersville, USA
Hi Colin, please introduce yourself.
Hi! I'm Colin and I'm a twenty-one year old American photographer currently living near Indianapolis, Indiana. My first memory of picking up a camera was the summer of 2017, when I was about sixteen. I went on an adventure with my friend because he had to shoot some pictures for class over the break. I remember the rush I felt and signed up within the next month to be in my high school's film photography class that year. In that class we got introduced to the darkroom and it was the first time I've ever found a passion for anything.
Now I'm in college studying healthcare, but still photographing every single day. My recent work has been more of a journal of my life and what it means to be alive. I try to capture honest moments of myself and my friends. My current focus right now is on youth and shared nostalgia.
What does analog photography mean to you? What excites / fascinates you about it?
Analog to me is gritty and real. It's like watching a perfectly imperfect movie where the stunts are real versus a movie that's nearly all CGI. It just feels different from digital and slowing down makes it feel more like an actual artform. It's so exciting because the possibilities of a picture are limitless. You can capture beauty, nature, street life, joy, sadness, pain, melancholy, fashion, and so on. You can focus on anything you want to focus on. The world is quite literally your playground.
In your opinion, what are the advantages and disadvantages of analogue photography?
I think the only disadvantage is how expensive it is. You'd think a huge digital camera would be a crazy amount of money, but a simple film camera times a hundred rolls of film and development is just as pricey, if not more nowadays. I think it's for sure worth it though. Film forces you to slow down and really think about what you want to shoot. It makes you be much more intentional. I also think it's great for client work because they can't nitpick themselves. If a model secretly doesn't like their smile in the digital picture you just showed them, they could totally change their expression and turn their emotions into something that's less organic. It helps me and whoever I'm photographing to both stay present in the moment of a shoot. Digital to me is for when you want something to be nearly perfect and super clean. Film to me is for when you want honesty, grit, and emotion, which are all things I crave to capture through my work.
Do you concentrate on a certain topic in your work? ​
My biggest focus right now is youth. I'm at this weird point in my life where I no longer feel like a kid, but I don't quite feel like an adult yet. I call it the "edge of adulthood". I didn't photograph much of anything personal at all my teenage years and it's one of my biggest regrets. I'm taking these years before I get too grown to really hone in on what it means to be a young person and hopefully that can give people a feeling of nostalgia. I'm photographing intimate moments of myself, my friends, and our experiences we share together.
Are there (analogue) photographers who have influenced your aesthetic and approach?
For sure! Some of my favorites are Ryan McGinley, Bruce Davidson, Olivia Bee, Theo Gosselin, Nan Golden, Tyler Mitchell, and many more. All of their photos are so authentic feeling and so full of love and personality. I think their photographs say just as much about them as their subjects.
Do you have certain cameras and films that you prefer to work with?
I'm really not too picky because I haven't tried out too many cameras. I've only worked with five cameras in my five years of doing photography. 35mm will always be my favorite to shoot. I usually use portra, rather that's 160, 400, or 800 speed. Occasionally I'll use other films like cinestill. I think it's really more about the vision, the moment, and the creativity and less so about technical elements. Of course knowing your gear is very much important, but a good imagination will take you so much further.
Speaking of films: What does your workflow look like? ​
After a roll is done, I drive it up to my local film store. Luckily I live about thirty minutes from one. I trust the lab so I get everything developed and scanned there. Occasionally I will make minor tweaks for color, crop, or contrast in photoshop. For the photos I love, I have a Canon printer at home that I use.
What advice would you have for other photographers who are reading this interview?
Shoot one picture on film every single day! It's hard the first few months and then it progressively starts to be a part of your daily routine. It sort of becomes a reflex in a way. I think quality photographs come from quantity practice. For every one photo I deeply love, I probably have twenty five or thirty photos that are absolute garbage!
If you publish your work on Instagram: curse or blessing?
The only blessing is that it helps me meet new friends but other than that, it's a curse. In an ideal world I would love to have no social media, a flip phone, and still be able to get my name out there. Sadly I think posting online and making connections through the internet is one of the only ways to gain some momentum within the community nowadays.
Also I think too many people judge an artist's work based off of their follower count which is totally sad. I've seen artists with 20 followers making mindblowing art while another artist might be making mediocre art with 20,000 followers. Social media has made the art world such a weird place to navigate.
Which 3 photo books can you recommend / should you definitely own?
There are way too many photobooks out there about a wide range of topics. I love too many so I'm just going to name the first three that come to mind. The latest one I bought is "I Can Make You Feel Good" by Tyler Mitchell. It's pure genius and so powerful. "Way Far" by Ryan Mcginley is absolutely mindblowing. I never knew photos could be that beautiful. Lastly I'm going to go with "The Ballad of Sexual Dependency" by Nan Goldin. That one is an obvious classic. It showed me how intimate and moving photography can really be. There is so much love and raw emotion in that book. I could go on and on but I'll stop there, haha!
Thank you so much for your time!
Favorites