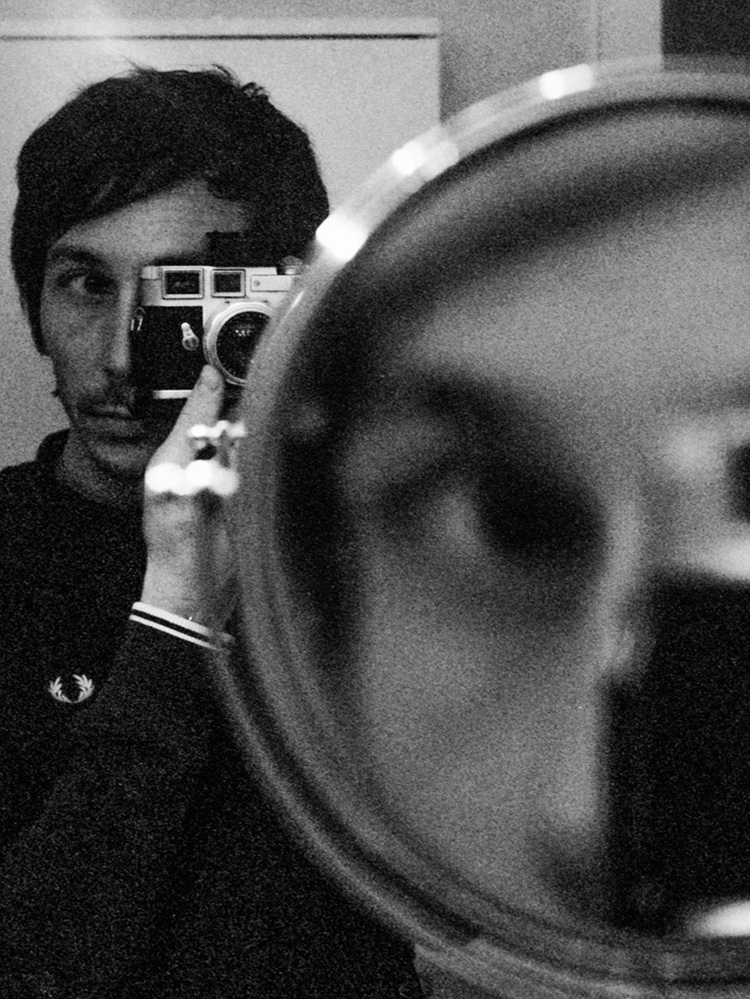 In conversation with
Jan Krattiger
Munich, Germany
Hi Jan, please introduce yourself.
I am 39 years old, a full-time journalist in Munich. I came to Munich from Switzerland in 2015, where I grew up in a village near Basel. I studied English in Basel and started working as a freelance journalist on the side. Then I slowly got more serious about photography, both digital and analogue.
I have always used analogue cameras on the side. At first I used my father's old Konica SLR during my school days (I still have it), then I increasingly used cheap Lomo cameras when I was on tour with my old band, for example, that was during my studies.
Then I bought an old Leica M3 very cheaply and that's when it really started again, that was about 6 years ago now. At first I took photos on holiday, alongside a digital one. And since about 3 years ago, before Corona and before the birth of my daughter, it became a real hobby that also takes up more time. These two factors have accelerated it a lot.
When I started as a local journalist during my studies, it was obligatory to take photos for the articles you were writing. So it was semi-professional, so to speak, and that's how it's remained ever since, I've always liked that. Apart from a few pictures for friends' projects, most of the work is done on a hobby basis at the moment and that's okay for me. I have no training in this field.
What does analog photography mean to you? What excites / fascinates you about it?
Photography in general has always appealed to me, analogue has always been a side effect (I still photograph both). With analogue photography, even if it may sound very trite, I am very attracted to the process: it is slower, more deliberate, and perhaps also less precise. This in turn has also had a positive effect on my digital photography.
What's more, I develop black and white myself at home. And for a few months now, I've been going regularly to the darkroom with a friend to make prints of my own pictures. There's something nice about being in control of the process from start to finish. And there's always a bit of magic when images suddenly appear on the film strip.
In your opinion, what are the advantages and disadvantages of analogue photography?
For me, the advantage is the process: slower, more deliberate, but also somehow more risky. On another level, it's also easier: you have a look right away – of course you can emulate it very well with Lightroom, etc., but when you shoot analogue, it's just there. And it's really good.
Do you concentrate on a certain topic in your work? ​
What I mainly show on my Insta is probably a mixture of landscape and architecture, you hardly see people. But that's more of a coincidence, I just like to photograph the beautiful, special and also ugly corners that my surroundings have to offer. In my private life, I take many more family pictures, but these remain mainly private. I'm not very strategic, I just have a camera with me most of the time and take pictures of what catches my eye.
Are there (analogue) photographers who have influenced your aesthetic and approach?
Incredibly many, yes. Just to name a few (without presuming to be anywhere near as good): Robert Frank, Teju Cole, Nanna Heitmann, Paul Fusco, Vivian Maier, Jochen Lempert.
So from them I look at books/pictures and want to pick up the camera immediately and start shooting.
Do you have certain cameras and films that you prefer to work with?
I try to concentrate on the M3 with my 50mm lens and black-and-white film, preferably Tri-X, although it's rarely used at the moment because of the steep rise in Kodak prices. Instead, Ilford HP5, the other classic. Restricting myself to the combi also works most of the time, I think I've already achieved a certain naturalness in my photography.
I'm a bit more conscious with the Hasselblad and take it with me when I know I have time to take photos while I go for a little walk or something. It's also obvious because it's one size bigger.
I often have a colour film in my Olympus XA because I always carry it in my jacket pocket and take random photos of things I come across. And sometimes I get a couple of rolls of Lomo 800 for medium format, that film is also really fun.
Speaking of films: What does your workflow look like? ​
Black and white: Develop in the bathroom, scan with flatbed (Epson), adjust contrasts in Lightroom, possibly enlarge in the darkroom.
Color: like black and white, but without development and darkroom. I find scanning myself quite difficult, though.
What advice would you have for other photographers who are reading this interview?
Phew, difficult. Just do it and try it out? There are 10 videos on YouTube for everything that explain it very well. Self-developing, for example, is so easy, but somehow you don't think so.
If you publish your work on Instagram: curse or blessing?
In general, it's more of a blessing, because I notice that there are a lot of good vibes out there in the (analogue) photo community. I've been asked a few times if I'd like to share a picture for a zine – also by you. That always makes me very happy. And there are so many good photographers around the world who do mega inspiring work. That is primarily a blessing, but sometimes also a curse because you think you should stop right away.
Which 3 photo books can you recommend / should you definitely own?
Robert Frank – "The Americans"
Teju Cole – "Fernweh"
And a local hero who is still far too little known: Volker Derlath – "Oktoberfest"
Thank you so much for your time!
Favorites