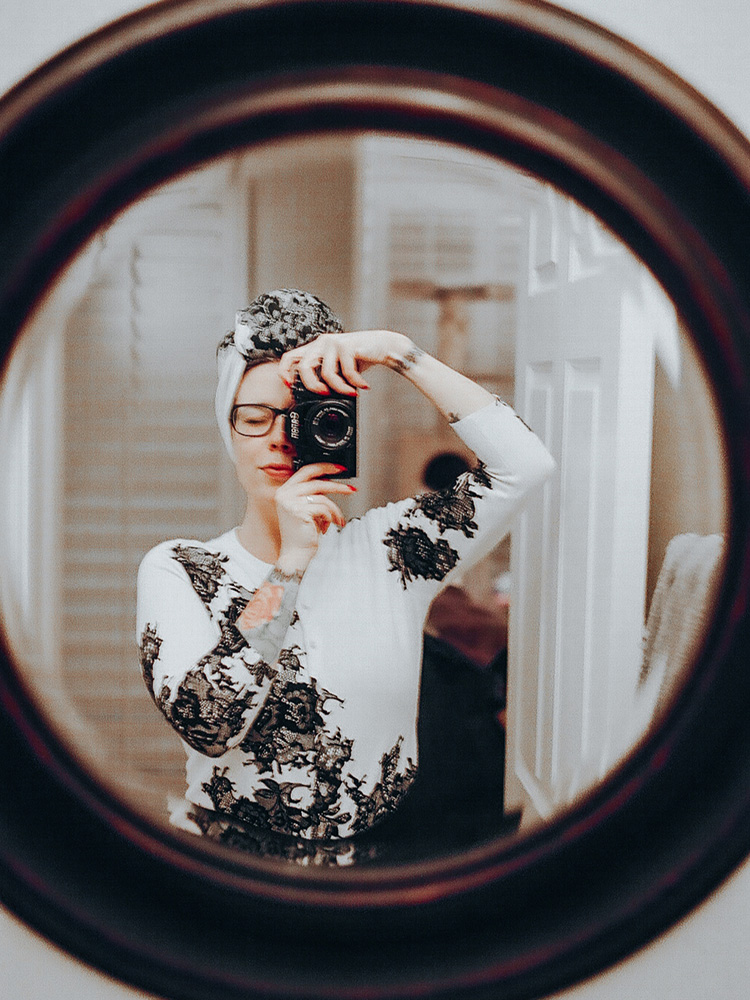 In conversation with
Sara Matzenbacher
Aliso Viejo (California), USA
Hi Sara, please introduce yourself.
I was born in Portugal. Lived in Hamburg for 15 years and emigrated to California four years ago. I live in Aliso Viejo, in Southern California. The city is boring as hell, but fortunately only an hour away from Los Angeles or San Diego. The beach is only 20 minutes away. The mountains and desert can be reached in two hours. So, there is no shortage of great photo opportunities!
In my youth, I only took analog photos. I loved photography and at 17 I wanted to be a photographer. But at that time the universe had other plans for me! Last fall (almost 18 years later!) I started studying photography. In September 2021, I decided to buy an analog camera again. Now I have ten. Old love does not rust even after a long break!
What does analog photography mean to you? What excites / fascinates you about it?
I rekindled the analog flame at a time when much of my life was changing. My analog photography is the space where I meet myself, without ifs and buts. It's a space where I can explore my obsessions, without restraint. It's where I feel free to capture and give expression to both the beautiful and the ugly. I love contrasts.
Shooting analog in a digital age where everything is rushing past you feels very antagonistic. And I've always liked to swim against the current. At the same time, shooting analog is also very therapeutic and meditative. I love the slow pace and the mindfulness that comes with it.
In your opinion, what are the advantages and disadvantages of analogue photography?
Shooting analog can get expensive fast. Every time the shutter is printed, it costs money. That's a disadvantage, but also an advantage, because it forces me to be more careful and critical: do I really want to photograph what I'm looking at?
Analog photography helps me discover and understand what is important to me. At the same time, I am "forced" to take better pictures because I usually take enough time and pay attention to details before I shoot. I have learned to value my images much more and to focus on quality rather than quantity.
Do you concentrate on a certain topic in your work? ​
For the most part, my focus is the peculiar and that can take many forms. That's why I photograph almost everything that comes in front of my lens and inspires or touches me at that moment. It's almost everything from street to landscape to architecture — religion and death are often a theme. I recently started a project that is all about grief photography. I've rarely photographed portraits, and when I have, they've mostly been self-portraits.
Are there (analogue) photographers who have influenced your aesthetic and approach?
There are certainly many who have influenced me in an indirect way. Thematically, I am most inspired by Andres Serrano, Robert Misrach and Graciela Iturbide.
Do you have certain cameras and films that you prefer to work with?
It really depends on the day and where you want to go. I love the Canon A1. Lately I've been shooting most with the Canon Rebel T2 and with the Nikon FA. I also enjoy shooting medium format with the Yashica A. I often have multiple cameras with me when I plan to shoot more intensely. But I never leave home without at least a small point and shoot in my bag. After all, the best camera is always the one you have with you.
As for film, I shoot most often with Kodak Portra 400, FujiFilm Superia x-tra 400, Ilford Delta or Lomography Berlin.
Speaking of films: What does your workflow look like? ​
After shooting, I send my films to the lab for developing and scanning. I'm not a fan of extreme post-processing. I correct the color and crop the one or other image a bit and that's it.
What advice would you have for other photographers who are reading this interview?
I take photos from the gut, so to speak. I prefer intuition rather than technique or photographic rules. So the only thing I can advise is, enter into a love affair with your camera (or cameras, because polyamory is one hundred percent allowed here!). Enjoy the depth and intimacy that happens as you get to know each other. For me, being successful at photography is not about having lots of great pictures at the end of the day, it's about having looked into your soul and having left a lasting impression on yourself from the experience.
If you publish your work on Instagram: curse or blessing?
So far my experience on Instagram has been positive. I like the exchange and enjoy seeing and following the work of other creatives. But I don't take it too seriously. It's nice when others enjoy my photos there, but I don't invest a lot of time or energy getting new followers or anything like that. I'd rather be outside and take photos of dead birds.
Which 3 photo books can you recommend / should you definitely own?
There's nothing you absolutely have to own, except a camera and rolls of film. But I recommend "Border Cantos" by Robert Misrach, "Body and Soul" and "Holy Works" by Andres Serrano.
Thank you so much for your time!
Favorites