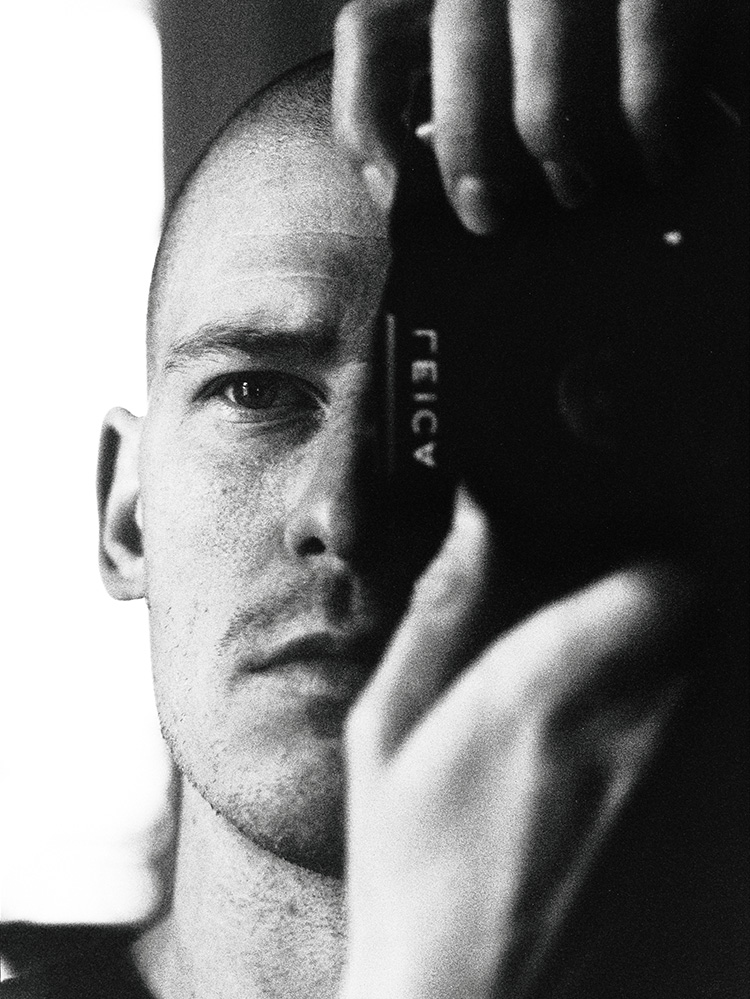 In conversation with
Sebastian Weissinger
Vienna, Austria
Hi Sebastian, please introduce yourself.
I live and work as a photographer and cameraman in Vienna. Photography has always been present in my life as far as I remember. My grandfather and father both took lots of family, children's and holiday photos and created albums. I also got my first cameras from my father.  Later, photography was always a topic when I was skateboarding, and that's when I first came into contact with analogue photography. When I earned money for the first time during my community service, I bought a Nikon FM2 and snapped around a bit, but didn't pursue it seriously.
I then spent a few years only with video – both professionally and privately. But since there was already a lot of filming with DSLRs back then, I also always had photo equipment and took pictures of this and that. Seven years ago, I became a father myself and since I grew up with there being "good" photos of children in the family, from that moment on I always had a (digital) camera with me and also got more and more involved with it. Then for a long time I searched unsuccessfully for "my" visual language or "my" way of photographing. Four years ago, a few days after the birth of my second child, I bought an analogue half-format camera on a whim and since then the subject has occupied me more and more.
What does analog photography mean to you? What excites / fascinates you about it?
Basically, through analogue photography I have found a creative activity and form of expression that I have been searching for many years – actually since my youth. And it is something that occupies me in some form every day, at any time, in every free moment.
In your opinion, what are the advantages and disadvantages of analogue photography?
Of course there is the standard answer – for example: deceleration and the experience on the one hand, costs on the other, etc..  Personally, there are only advantages for me, as just described.
Do you concentrate on a certain topic in your work? ​
I usually take photos on the street. I see a lot of parallels to skateboarding, so it probably suits me. But I also like reportage and portrait photography very much.
Are there (analogue) photographers who have influenced your aesthetic and approach?
My aesthetics and approach have come more from my previous experience and other interests. Skateboarding has certainly contributed to a large extent to my affinity with the street, but also that material and haptics are very important to me.
I think that my way of photographing has been a natural development so far, but of course also influenced by other photographers. But it also happens that I come across photographers who created work decades ago that is very similar to mine. But maybe they were simply influences of my influences.
Do you have certain cameras and films that you prefer to work with?
Yes. I usually use a Leica M2 with 90mm lens and Kodak Tri-X on the street. For portraits, I work with the same film but prefer to use an SLR – either a Leica R8 or a Nikon FM2 with different focal lengths.
Speaking of films: What does your workflow look like? ​
Shoot – develop – contact sheet – prints. In other words, the classic analogue workflow. At the end, I might retouch and laminate or build frames. In addition, I make scans of the negatives to have a digital archive. If I can't get everything out of a negative in the darkroom (because I made a mistake with the exposure, for example), I have no problem working with a hybrid scan and having it printed.
What advice would you have for other photographers who are reading this interview?
I don't think there is any general advice I can give. In the end, everyone has to find out for themselves what works for them. This starts with technical things like camera and focal length, film and developer, but above all with the question of the motif and content of one's own work. What/how/when/where/with/etc. count. Only the "why?" is always really decisive. But that's just my assessment based on my influences and the little experience I've gained over the last few years.
If you publish your work on Instagram: curse or blessing?
Both answers would be too easy. I am not very active on Instagram and see it more as a vice for me personally. Others benefit from the platform and its possibilities, of course.
Which 3 photo books can you recommend / should you definitely own?
At the moment one: "Timm Rautert und die Leben der Fotografie"
Thank you so much for your time!
Favorites